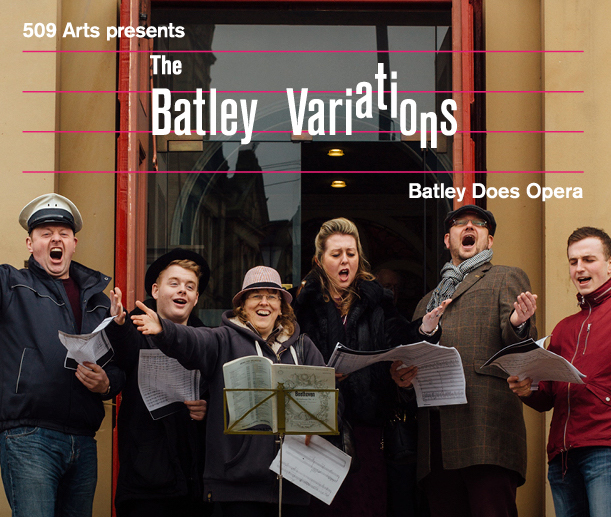 A SPECTACULAR NEW SHOW!
The Batley Variations is a brand new opera made with the people of Batley.  It will be premiered at St Mary's Social Club in Batley at the end of November 2018.   Created by 509 Arts and set in a cabaret environment, The Batley Variations will cover 24 hours in the life of Batley and the people who live, work and play in the town.
The Batley Variations has been commissioned by Batley Business Association and Creative Scene and follows the success of the very first Batley Does Opera, presented in partnership with Opera North in 2016.
The Batley Variations will tell stories of the town and its ordinary and extraordinary characters. It will be directed by Alan Dix, written by Mike Kenny (known for his Olivier award-winning The Railway Children) and composed by Richard Taylor (winner of two UK Theatre awards).
A chance to be part of something special!
The Batley Variations will be performed by local people as singers, dancers, musicians and performers.  There will also be opportunities to volunteer to work back stage or front of house.  There are plenty of ways to get involved and you don't have to be an experienced or trained singer/performer to take part.
Tell us what you think of Batley
We need your stories of Batley  that will help bring The Batley Variations to life – the town's local heroes and eccentrics, special moments, iconic spaces and hidden secrets.  We've created a light-hearted online survey to help with the making of the show and we'd love it if you could take a few minutes to tell us what makes Batley Tick!
Get in Touch!
If you are interested in performing or helping out on the Batley Variations please do get in touch with us by emailing info@509arts.co.uk
Weekly choir rehearsals start from Tuesday 11th of September from 6.30-8pm at St Mary's Social Club (Melton St, Batley WF17 8PT), with Em Whitfield-Brooks, our amazing chorus leader.   We will be running open rehearsals and auditions for anyone interested in solo or small group parts on the mornings of Saturday 29th September and Saturday 6th October.