CALDERLAND: A CONCERT PERFORMANCE
Sunday 25 March 7:00 pm

–

8:15 pm
If you missed it the first time, 
 Calderland
is back!The memorable community folk opera that inspired nearly 3000 people at The Piece Hall in late September 2017 will be performed once more, this time under cover, at the
Victoria Theatre, Halifax
.
Featuring a choir of 200 local adults and children, with music and libretto by the award winning team of Richard Taylor and Mike Kenny, Calderland is a love song to the Calder Valley and the people that live in it.
This extraordinary 75 minute musical experience celebrates the resilience and spirit of the Calder Valley, how its landscape and people have been shaped by water, and the stories, achievements and communities that make it unique.
"Well, Calderland was pretty blinking magnificent.  Until tonight I hadn't realised how much we needed to come together to remember Boxing Day 2015 in such a defiantly human, creative way.  Cathartic, joyous and a relinquishment of all the water to come"
Tickets £5 *
*The Victoria Theatre will add a £1.75 Theatre Support Fee to each ticket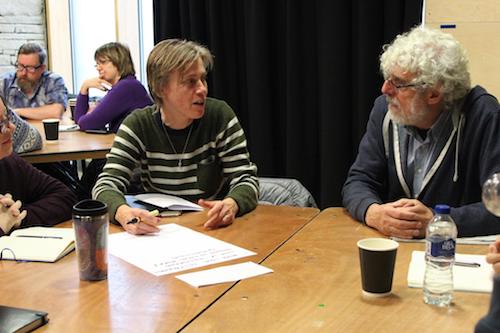 REFLECTIONS: Tackling the Tough Stuff
Tuesday 27 March 9:30am-12.30pm
Not everything in life is a bed of roses and working with communities isn't all about celebration. How do we respond to difficult questions, circumstances and events sensitively and appropriately in a creative community setting?
This session is part of Transitions, a series of workshops, discussions and presentations for arts organisations, individual artists and people working with the communities of Calderdale.
To register your interest in this session please email paula.horton@509arts.co.uk