Meal One is a playful new family show based on the picture book
by Ivor Cutler and Helen Oxenbury
A boy sleeps in his bed. The house around him creaks. An owl hoots. Clouds drift across the brightening sky. Quietly, softly, we explore the house and garden as the sun begins to rise. Music begins to shape the day and the boy begins to stir.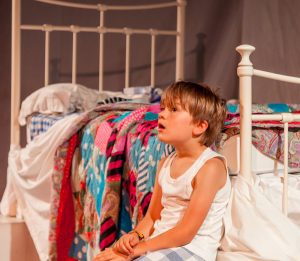 He suddenly sits up all surprised and calls out:
"Who put a plum in my mouth?"
"Me!" shouts Mum.
And that is how it begins
Meal One is an immersive and playful family show featuring Helbert, his Mum, a dog and a cat. We follow them as they prepare for the day by planting a plum stone in the bedroom floor. Naturally, a huge tree quickly fills the room, turning it into the best tree-house-playground ever. But when they go downstairs for Meal One – the first meal of the day – they discover a kitchen full of tree roots busily munching through anything edible they can find.
Based on a 1970s children's book by Ivor Cutler and Helen Oxenbury, Meal One is a journey of discovery filled with breath-taking projections, music and singing, unexpected transformations and augmented reality surprises.
Meal One is a new co-production between 509 Arts and Hull Truck Theatre, with support from Mind the Gap and will tour to studio spaces in Winter/Spring 2022.
Creative Team
Alan Dix: Director
Felix Cross, MBE: Composer
Fabric Lenny: Digital Design
Naomi Parker: Set Design & Costumes
Hannah and Drew Winnie-Hawkins: Choreography