Transitions – developing creative capacity in Calderdale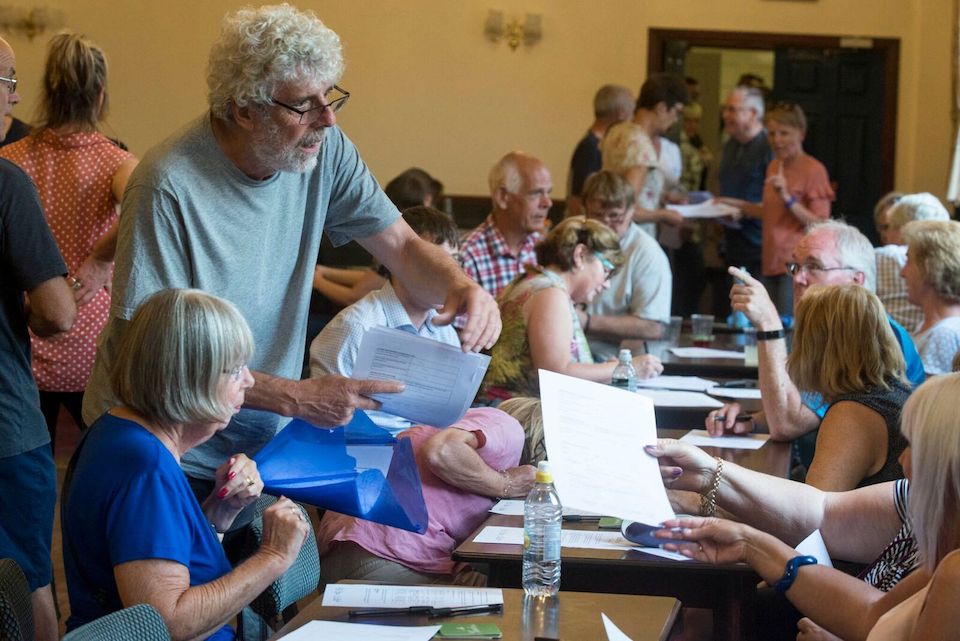 Transitions is a year-long programme of workshops, discussions and mentoring for arts organisations, artists and people working with the communities of Calderdale.
Funded by the Community Foundation for Calderdale, Transitions takes place across the Calder Valley in 2018 and is designed to explore issues relevant to anyone working in the cultural sector. It will build on Landlines and Watermarks – our 2017 programme exploring the impact of the devastating floods of 2015.
Over the last 10 months we have looked at many different aspects of creativity in the Calder Valley including:
Cultural Diversity in Community Settings
The Dissident Artist (with Hebden Bridge Arts Festival)
Education and Learning in the Arts
Business Planning
Creative Leadership
Data Protection
Our workshop programme has space for lively discussion, information sharing and informal networking.
The programme has also included opportunities for one-to-one capacity building and business planning sessions for local creative businesses and sole traders in the Valley.
Transitions sessions are free to all local groups, organisations and individuals.
Workshop details are listed below: contact Paula Horton for more information.  
LEADING FROM THE FRONT: 18th October 2018
The Calder Valley has a great richness of creative and cultural talent. How can we demonstrate regional leadership? Is it about
people or place? Do small towns and villages have to dance to the metropolitan tunes of Manchester and Leeds or can we do
things differently enough so that people stand up and take notice?
Speaker: Tom Andrews
Tom specialises in helping those that help others. He is a coach, facilitator and advisor working across the cultural and voluntary sector. He works particularly with leaders at times of transition, creating space for reflection.
Previously Tom was the founder and CEO of two national charities; Music for Change (promoting understanding between cultures through music) and People United (how participatory arts can grow kindness and social change). Starting both from scratch, he built these arts organisations by being an enthusiastic generalist and with a belief in the power of creativity in bringing people together.
Other things he has got up to include: working as strategic manager for the Royal Opera House (2006-2007), writing the first education pack on Tibet (1995-1997) and promoting artists from around the world as founder of the voluntary initiative Under One Sky (1993-1997). He was part of the first cohort of the Clore Leadership Programme (2004-2005), is an accredited Relational Dynamics coach (2014) and is a fellow of the RSA. He regularly mentors cultural and community leaders. He is a member of the European Mentoring and Coaching Council and is currently completing training to become a professional counsellor.
When: 18th October 2018
Where: Todmorden Town Hall, Bridge Street, Todmorden, OL14 5AQ
Time : 9.15am – 12.30pm
CHEESE ON STICKS: 5th December 2018 (By invitation)
A roundup of where we are, what we have achieved in the last 12 months, a Bettakultcha Hour and a celebration!
When: 5th December 2018
Where: Square Chapel Arts Centre, 10 Square Road, Halifax, HX1 1QG
Time: 6-9pm
**Please note this event is by invitation only**