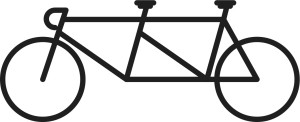 David and I ride a tandem – it's a good equaliser, as David is far better than I am.
We had done the Great Yorkshire Bike Ride several times, but a few years back we quite fancied the idea of doing a 100-miler and decided that extending the Filey ride would be a good way to achieve this. As I recall, the run from Wetherby to Filey is around 80 miles.
So we looked on the map, and it looked like Malton was about 20 miles inland from Filey. So the day before the big ride, we drove two cars to Malton, and left the one with the bike rack for the tandem there on a side street.
We had an early start, managed to cycle up both of the big hills – Setrington Bank (category 5) and Terrington … (cat. 3). It was a good run to Filey – we got there around 1 pm. Good time. So we hung around for a short while with our friends who had done the ride with us, and then headed back towards Malton. Our friend Pete, who is a bit crazy, was with us – he was going to ride all the way back.
At first it was kind of fun doing the route backwards, with all of the people who were behind us now coming toward us. What was not so fun was that we suddenly had a head wind. I mean to tell you, it was hard work. I remember in particular one hill: it wasn't very steep, but it seemed to go on forever. You'd see the crest, and when you got there, it turned out to be a corner with the climb continuing – this happened about three times.
We were together with Pete for about 10 miles, then he took a more direct route toward Wetherby while we turned off toward Malton. Now here's the thing. We didn't know how good our calculations had been. If we got to the car and found that we had only gone 95 miles, we'd have to add another 5-mile loop in order to achieve our goal. Or even worse, if it turned out that we had to ride an extra 5 miles to get there – well, it wasn't a happy prospect. We were running on empty.
We made it to the car. "You won't believe this," David said. The odometer showed that we had gone 100 miles and 380 yards. Exactly. How lucky was that. The only downer was that there was no one there to cheer us on, to congratulate us, maybe to give us a hand with lifting the tandem up onto the roof rack. But still – we had that great feeling of accomplishment.
Annerose