As an avid follower of the Tour de France for many years, having seen stages in Beziers and Narbonne as well as of course the London 2007 prologue, last year's 2013 Tour was my first attempt to see a multi stage section of the Tour de France and fulfil a dream to see the
Alpe d' Huez stage. The trip was planned to take in four stages in total, but the high point was to see the double ascent of Alpe d' Huez.
The Alpe d' Huez stage would require a 5am start, driving to Bourg-d'Oisans a sleepy small village at the base of the climb, putting the bikes together and before the road was closed starting the ascent through the already crowded roads to our intended destination of corner 10 (Bernard Hinault corner), although this was soon renamed by the dozens of British cyclists gathered there 'British Corner'. I was well aware of the need to arrive early to gain a good vantage point and  to fully appreciate the atmosphere of how the excitement builds. Initially there was the low level hubbub of general conversation between spectators sharing stories of previous stages seen and light hearted banter, as well as cheering on the other cyclists riding past to their intended vantage points on Alpe d'Huez. Anticipation was building further with the theatrical arrival of the Tour Caravan (at around 12.30pm), with all its decorated sponsors' vehicles and the liberal distribution of free merchandise. Culminating in the full on hysteria of the crowds as the cyclists began to arrive (at around 2.00pm), you could hardly hear yourself think amidst the shouts and cheers of the crowd.
Having never seen a mountain stage before, I was not disappointed. My expectations were exceeded by the whole atmosphere especially the impressive camaraderie.
The steady incline had forced a fragmentation of the peleton leading to a steady procession of cyclists past my vantage point. From the leaders of the peleton including Chris Froome to the sprinters, such as Mark Cavendish, bringing up the rear of the peleton in the 'Autobus'. (the group of sprinters helping each other over the mountain).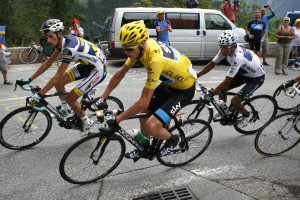 The cheers of the crowd rose to a crescendo as famous cyclists passed within touching distance of the spectators. Finally as the Lantern rouge (last cyclist) of this year's tour passed my vantage point through the myriad of turns left on this epic journey to the summit of Alpe d' Huez, I was left nearly hoarse from cheering, with the memory of a life time after spending many hours watching one of the world's greatest sporting events.
Needless to say plans are already in place for attending this year's 'Grand Depart' in Yorkshire.
Andrew Norton