I had my first bike a long, long time ago, as you can see. I could have been better attired for a cyclist, but I was happy.
My next bike must have been a few years later. I went straight to a grown up bike, no training wheels. I started 'cycling' in the house. It was not a very big house. I did not need a lot of space, just enough for me to keep my feet off the floor momentarily, as I learnt how to balance.
It was a dream come true when I managed to cycle properly. Literally. I dreamt I could balance on a bike. Next day, I graduated bravely from inside the house to the outdoors, and eureka, I did it! The true joy of cycling has began…
Cycling became a means of transport some years later at university. Emily and I bought the same mountain bike at the same time. We already had the same jacket.
That was some twenty years ago since I last cycled. So why did I think it is a great idea to now cycle 500 plus miles from Paris to Leeds? Always up for a challenge, I bought my first ever road bike after a wobbly test ride outside the bike shop. I was shaking like a leaf; the shop owner must have been even more terrified! I started cycling around in an empty car park early Sunday mornings. I promptly threw myself onto some bushes on my first ride out. It's going to be a long ride.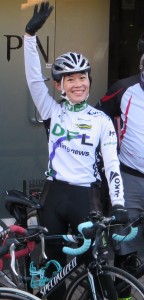 The challenge was inspired by the Tour de France starting in Yorkshire. All the effort is channelled into raising funds for a Yorkshire Charity started by an equally inspiring Yorkshire woman, Jane Tomlinson, who endured one after another physical challenges including cycling whilst she battled terminal cancer.
Like everyone else, I can't wait for the Tour de France. For me, it means that I would have successfully cycled all the way from Paris to Leeds!
Ai Lyn