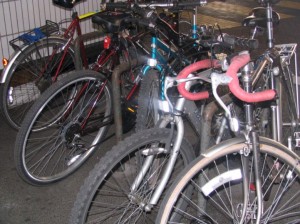 I was working away from home for a couple of days, maybe three. I cycled to New Street Station, locked my bike to the racks outside and hoped on a train. On my return I was taken aback to find not just that my bike had been stolen (always a risk) but that the whole set of bike racks had been stolen, no mean feat given that it required drilling out all the tarmac from around them. This was no amateur job, these were professionals.
Looking round I saw a large pile of rubble, built up by the builders charged with renovating the station forecourt. There, atop the rubble pile, perched uprooted bike racks with, still tenaciously locked to them, my bike. I gingerly climbed the scree slope, unlocked my machine, confirmed it was still road worthy and cycled off into the distance.
It seems progress waits for no bike.
stanscafe