I started every cycling day by singing 'On the Road Again' (Canned Heat) to Ivor. My bike is named after my grandson, Ivor, so he travels with me, but I tend to refer to my bike as 'Ivor bike'. When I was cycling along and having a moment of reflection or needed a bit of motivation up a steep hill I would talk to Ivor, he was my connection to home.
My first cycle tour was solo, unsupported, 1300 miles and inspired by a portrait of Mark Cavendish produced by Intoart artist Doreen McPherson for an exhibition that ran alongside the start of the Tour de France in Liege 2012. Intoart is a small artist-led, visual arts organisation working with people with learning disabilities, one of the founders is Ivor's Mum.
I started cycling on the same day as the Tour de France 2013 from Tate Liverpool, over the Pennines, ferry to Belgium, followed the Flanders Cycle Route and inspired by Jean Metzinger's cubist artwork 'At the Cycle Track 1912' added the classic Paris Roubaix route in reverse to arrive in Paris for the finish of the Tour de France. I then followed the Avenue Verte to reach London for a party at Intoart's studio. The tour included visits to art galleries in Liverpool, Ghent, Liege, Lille and Paris.
Along the journey I met some amazing people, like the 93 year old lady in Grassington, who had started a cycle club in Hull and at her 90th birthday over 200 cycled to her party from all over the country, I must go back and have a longer conversation with her.
I stayed with Roger and Marijs near Antwerp, Roger's brain condition affected his balance so he rode a tandem with his wife and took his dog for a walk on his tricycle. They were such a welcoming couple who had recently completed a tour to Berlin after Marijs had recovered from a fall off their tandem when she broke her leg. In Hoegaarden, I found myself sharing the famous local beer and helping to prepare food with a group of energetic 20 year olds for their annual rock music festival.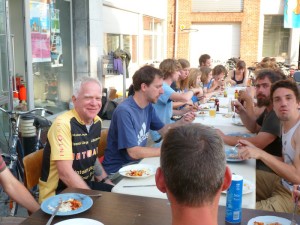 In France, I arrived at a large house with a courtyard that looked full of scrap as François, my host, had to leave for Lyon. When his wife Catherine finished work, I found that she spoke no English and I had to put my poor French to the test. The mass of what I had seen as scrap was Francois's recycling projects, including endless bicycles he had rescued and repaired which he either gave away locally or would send to Africa.
These people turned my tour into an unforgettable experience. Setting out each morning on Ivor bike was a special feeling, different on tour to a regular ride at home, the only way I can describe it is that it is exactly where I wanted to be – On the Road Again.
italy2014