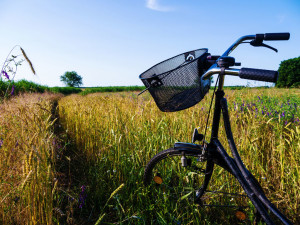 As a child I never had a bike of my own. I always had my brother's old bikes. I had learnt to ride a boy's bike. Swinging my leg over the crossbar became second nature.
My friends all had girl's bikes, many with little white baskets on the front. I was the odd one out with my red boy's bike with a black saddlebag tightly wedged behind the saddle. My friends asked why I didn't have a bike of my own, but I knew that my parents did not have enough money to buy me a bike. In the end they stopped asking and got used to my old bike.
When I was older my Dad asked me what I would like for my 40th birthday. I didn't hesitate – a ladies bike.
Dad and I went to Halfords and spent some time choosing the right bike. It was a special moment for both of us. At last Dad was able to give me something I had always wanted as a child and I had the pleasure of riding that bike for many years. I cycled  a round trip of 13 mile to work in all weathers. Needless to say I never got used the crossbar and still got on it as if it was a boy's bike!
JK