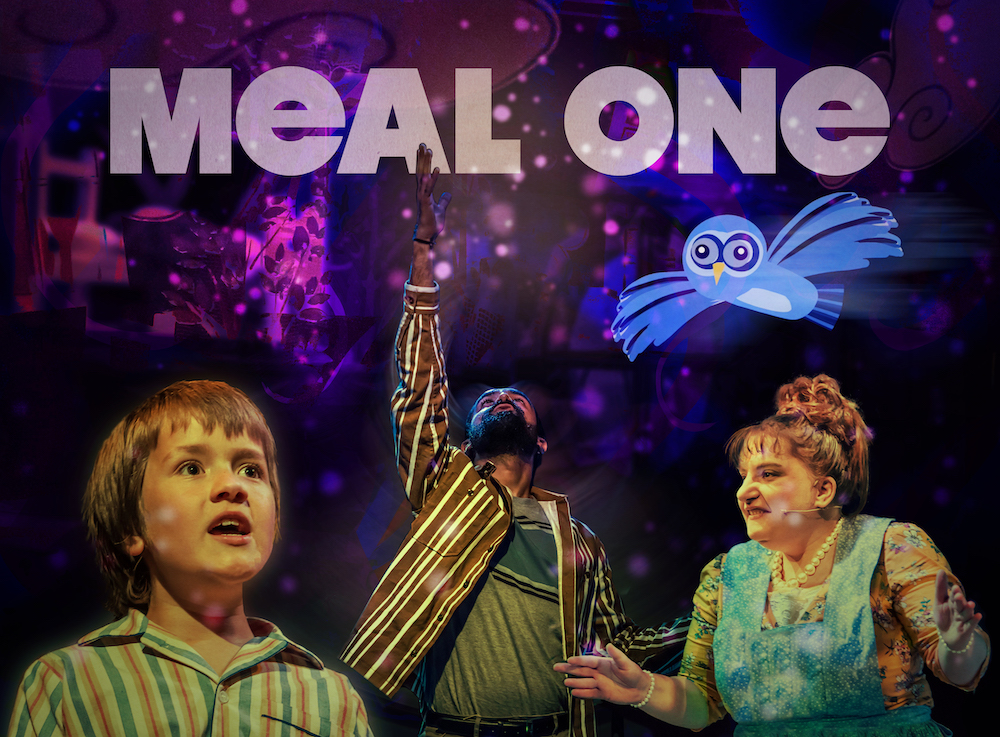 A new stage adaptation of cult Scottish poet Ivor Cutler and award-winning illustrator Helen Oxenbury's children's book, Meal One, will open at Hull Truck Theatre this February as part of the city-centre theatre's diverse 50th anniversary programme, before embarking on UK-wide tour.
The family show uses a multitude of technologies to create a truly immersive theatre experience; from breath-taking projections to music, singing and dance, as well as other unexpected surprises. Part installation, part live performance, audiences can explore an augmented reality trail in the theatre foyer ahead of the show and explore the set at the end to fully immerse themselves in the digital technologies that make the storytelling so unique.
Based on a 1970s children's book, Meal One tells the story of 10-year-old Helbert, his Mum, a dog and a cat. When they plant a plum stone in the bedroom floor, a huge tree quickly fills the room, turning it into the best tree-house-playground ever. But when they go downstairs for Meal One – the first meal of the day – they discover a kitchen full of tree roots busily munching through anything edible they can find.
The three-person production stars Mind the Gap artist Zara Mallinson as Mum, Wakefield-born Isaac Sugden in his first professional role as Young Helbert and classically trained tenor, composer, theatre maker and educator Sandeep Gurrapadi ['Passion, Poison and Petrifaction', produced by Pegasus Opera Company at the Royal Academy of Music; Martin Riley & Stephen Deazley's 'Nightmare Scenario', produced by Operasonic, Wales] as Old Helbert. As part of the immersive experience, audiences will be invited to meet the cast on set at the end of the performance.
A co-production by Bradford-based 509 Arts and Hull Truck Theatre, Meal One is supported by England's leading learning disability performance and live arts company Mind the Gap and funded by Arts Council England.
The creative team features a wealth of Yorkshire talent including 509 Arts' award-winning artistic director Alan Dix [director of 'Calderland', winner of the 2017 Royal Philharmonic Society Music Award for Learning and Participation]; musical direction by Shipley-based musician and composer, Dan Glade; choreography by York-based duo Hannah and Drew Wintie-Hawkins [Royal Opera House; English National Opera]; set design and costumes by Bradford-based Naomi Parker and digital animation and augmented reality by Holmfirth artist and image-maker, Fabric Lenny. The show also features a specially commissioned soundtrack by composer Felix Cross MBE. 
Following its world premiere in Hull, the show will embark on a nationwide tour, stopping at Leicester, Lancaster, Deptford and Ipswich, before finishing at 509 Arts and Mind the Gap's home city of Bradford.
Al Dix, artistic director of 509 Arts and director of Meal One, comments: "The research and development work for Meal One started before the pandemic, so after a long time we're excited to finally be able to bring this wonderful piece of immersive theatre to audiences across the country. We're excited to be bringing a new piece of work to the stage made especially for children, and a lot of thought has gone into creating a 'relaxed' and accessible experience for children with learning and other disabilities too." 
"It's a really simple story but one that will immediately appeal to anyone with an inner child, and the augmented reality brings a completely different dynamic to the work and creates a theatre experience that many people may not have had the chance to enjoy before. The fiercely talented cast tell this story beautifully and I'm sure that both children and adults will be moved by this unique production."
Tour dates for Meal One are:
Saturday 5 February – Hull Truck Theatre
Tuesday 8 – Wednesday 9 February – Leicester Curve (as part of Spark Festival)
Saturday 12 February – Lancaster Arts
Wednesday 16 – Thursday 17 February – The Albany, Deptford, London
Thursday 24 February – New Wolsey, Ipswich
Saturday 26 February – Bradford Alhambra Studio
To book tickets, visit https://www.509arts.co.uk/project/meal-one/.