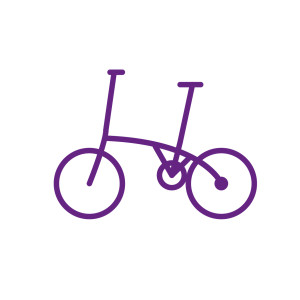 The sky blue and plum purple big wheeled tricycle was a hand me down from my big sister and so, of course, I loved it.
The three huge wheels provided more stability for me, probably aged three at the time, than my two feet on their own. And I could go fast. I'd half an acre of garden in which to ride it, round and round the beds of potatoes, beans, peas, onions, chives and lettuce for feeding the family; round and round our house behind sand dunes on the North Cornish coast; round and round the swing. Summer. Pretty. Idyllic.
Then, one day, something different happened. My sister, my mother and I remember this different happening quite differently.
I remember cycling in a circle, seeing a snake and, I think, not knowing at the time what it was, but being quite fascinated and looking down on it from the relatively lofty position of my tricycle saddle. It definitely stopped me in my tracks. It was wriggling around, a bit. I don't remember getting off my tricycle. I do remember tearing up the steps to the house, encountering the curly hoover tube in the front doorway, which looked a bit like a snake, trying to say something, but who knows what, to get attention over the noise of my mother vacuuming, definitely not articulating as clearly as to say, 'Mum, come quick, there's a snake in the garden'. Then I remember us both watching the snake disappearing through the garden hedge and into the grassy dunes beyond.
My mother remembers seeing the snake slithering into the hedge, but she thinks my sister was there too and that it was my sister who shooed the snake away, having sent me indoors to fetch her.
My sister remembers that we had a snake in the garden, but she doesn't remember seeing it or being there at all.
We are all three agreed that we didn't see any more adders the whole time we lived at Upton Towans. But we did have some pretty idyllic summers there and I had graduated onto my sister's hand me down two wheeler before we moved into town. Of course, I loved this, but I think it may have been a bit of a pain for her, as it probably meant we had to share it for a while.
I recently got back onto a bicycle after an unimpressive gap of 25 years – and it all came back to me, I was whizzing along in no time at all – it was really easy….no trouble remembering how to do it… just like riding a bike (boom boom).
mariab